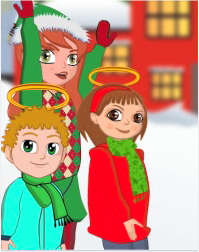 Forever Christmas Day!
In a world in need of joy, the Christmas Children come down from heaven to bring the spirit of Christmas to everyone. Giving with kindness by starting a parade, the Christmas Children bring smiles and happiness to neighborhoods around the world. Christmas Children show the miracle of sharing Christmas every day of the year
… Forever Christmas Day!

Byrne Music thanks the impassioned Pacific Northwest singers, musicians and recording professionals for their contribution to the song "Christmas Children." Special thanks to Thomas Pell for his high quality studio work and Matthew Kacergis for his powerful lead vocals.

The wonderful Christmas Children video was animated by BrainForest Digital (BFD) and directed by Joe Matamales.